ISO 9001:2015, ISO 14001:2015 and ISO 45001:2018 standards
Integrated quality, environment, health and safety management systems
Our decision to implement integrated management systems for quality, environment, health and safety at work is part of Mibral's long-term business policy and represents an expression of a lasting commitment to continuous improvement. In order to meet and strengthen our business principles, we direct our business activities towards achieving key business goals:
Proactive approach in achieving full satisfaction of all users of our services;
Continuous development and improvement of services and ways of doing business;
Constructive attitude towards customers, business partners, competitors and colleagues;
Maintaining existing quality standards as well as setting ambitious goals of constant improvement according to the latest world standards;
Professional development and retention of qualified staff;
Improving business profitability;
Maintaining a positive public image of the company.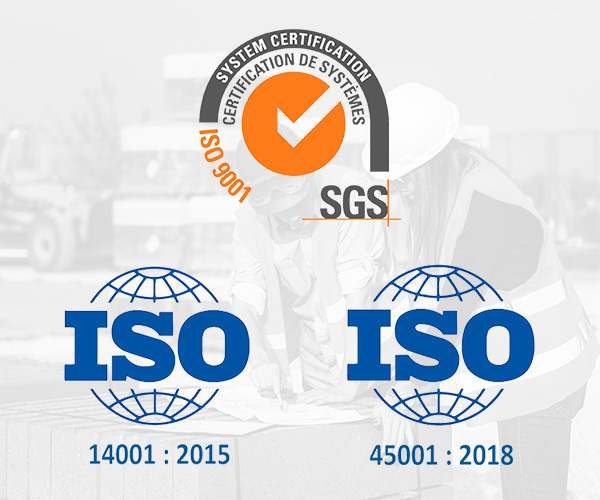 The policy of integrated management systems, quality, environment, health and safety at work is a framework for achieving goals. This policy is publicized and understood within the organization. It is also available to other stakeholders via our Website. Management reviews the policy at regular intervals to ensure continued compliance.
The policy includes the obligation to:
increase the level of investor satisfaction by continuously implementing projects according to established and accepted conditions and deadlines for delivery and payment,
ensure safe and healthy working conditions in order to prevent injuries at work and damage to health,
eliminate hazards and reduce risks,
undertake consultation and encourage participation of workers and their representatives
Mibral management ensures that the requirements of investors are understood and fully met in order to increase their satisfaction through:
market research,
direct contacts with customers,
renegotiation in contracting,
monitoring investor satisfaction.
In order to better understand the needs and expectations of stakeholders, we use integrated ISO management systems with clearly defined processes that add value when performing construction work. Due to their importance, these processes are elaborated in detail through analyses of descriptions and characteristics, evaluation of the effectiveness of key process, and ensuring the availability of resources and information. 
Mibral regularly monitors, measures and analyzes its process. It also implements the actions necessary to achieve planned results and continuously improve these processes. In case of the need for outsourcing, we attach special importance to the level of supervision in order to ensure the quality of service, protection of the environment and safety at work. 
Since its founding, Mibral has believed that the policy of maintaining a high quality attitude towards people and the environment is key to successful business and the foundation of our past and future success. In the market we are recognizable in our scope of business activity for the quality of work performed, compliance with agreed deadlines and professionalism.
Our intergrated management systems are based on a successful combination of professional competence, technical equipment and full application of standards and regulations in the field of construction.  We base our business philosophy on quality and conscientious execution of all works.
We exist for the sake of our customers and always strive to provide outstanding services and a high degree of satisfaction. Through the methods of regularly conducted surveys and interviews with our customers, we receive timely feedback on their satisfaction and promptly implement any improvement measures.
Thanks to strong leadership and the active participation of all members of Mibral, we achieve outstanding team results. Following clearly defined responsibilities and authorities, we apply ISO 9001: 2015,  ISO 14001:2015 and ISO 45001:2018 to all levels of our business.
The applied integrated quality, people and environment management system helps us to maintain a high standard of current business, but also gives us a basis for continuous improvement, which is our primary goal.